Volunteering
Volunteers truly make a difference in our schools! They may help plan parties, provide supervision on field trips, read with children, assist in the library, or prepare teaching materials. If you would like to help out around our schools, we encourage you to call your school's front office or contact your child's teacher. All volunteers must be approved and submit to background checks.
Other Ways to Help
You can also help support our students simply by doing what you already do.
Collect Box Tops for Education
Purchase Your Child's Art
Shop on Amazon

You must use the link above and search for the Johnsonburg Area School District Foundation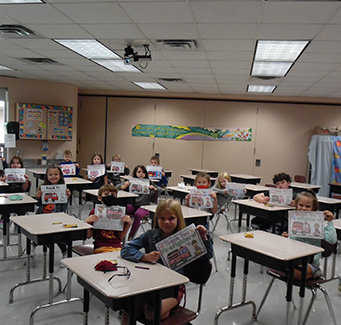 GET INVOLVED
If you have a child who attends one of our JASD schools, you are already a member of a great community. No matter your situation—full-time employment, part-time employment, busy stay-at-home parent, or grandparent, we need you!
Johnsonburg PTCO
Our parent-teacher-children organization is committed to every student's success. We host fundraisers that help support needed programs and equipment, and, together, work on issues that directly affect each child at our schools. We believe that the more involved a parent or guardian is in their child's education, the more successful that child will be.
We cordially invite you to attend our scheduled meetings at 3:30 p.m. in the media center.
Johnsonburg ASD Foundation
We recently created a nonprofit organization to preserve JASD's tradition of excellence by enhancing our student's quality of education and expanding their educational opportunities. We do this by supporting our existing programs and supplementing student activities with financial resources.
The Johnsonburg Area School District Foundation accepts both designated and non-designated donations and gifts from our community. As a recognized 501c3, all donations from businesses and individuals are tax deductible. When giving, please designate which program or activity (such as athletics, arts, prom, field trips, etc.) you would like to support, and your donation will be used for that purpose. Any non-designated gift or donation will be used wherever the foundation allocation committee deems best.
Donations to the foundation can not be used for JASD salaries. Please mail your donation to:
Johnsonburg Area School District Foundation
315 High School Road
Johnsonburg, PA 15845
Attn: Mrs. Linda Benson