COVID Resources
January 7, 2022 — Procedures Update
December 11, 2021 — Mask Update
CDC
PA Response to COVID
Johnsonburg Health & Safety Plan
COVID Symptoms
At-home Treatment for COVID-19
Is it COVID or Allergies?
Quarantine Guidelines
Quarantine vs. Isolation
Resources for Schools
Slowing the Spread
What Your Test Results Mean
Why Masks Matter
Vaccine Side-Effects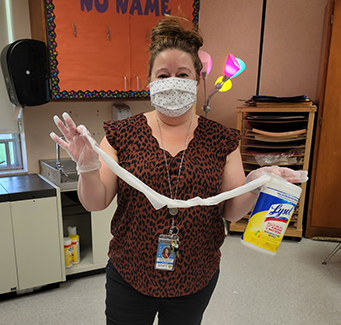 COVID-19
COVID-19.
Those words elicit different emotions for different people. We understand. With rules constantly changing, it can be hard to keep up. For your convenience, we've compiled the most recent CDC and state guidelines that apply to our schools on this page.
Face Masks
Pennsylvania's Secretary of Health has ordered that face coverings be worn in all school districts in the Commonwealth.
Although our Health and Safety Plan was approved without a mask mandate for the 2021–2022 school year (making it optional for students and staff), we are adhering to all state mandates according to law. This recent mandate was put into effect because of the rise in positive cases in our state and the new "delta" variant impacting school-aged children. Masking is believed to mitigate the risk of virus transmission and will allow us to continue with in-person instruction.
What This Means
Beginning September 7, 2021, all students, staff, and visitors must wear face coverings indoors regardless of their vaccination status, unless eating or exercising.
Student athletes are not required to wear face coverings while engaged in practices or competitions, whether indoors or outdoors.
Visitors/Athletic spectators are not required to wear face coverings while outdoors
Face coverings are required on all district buses.
We will continue to provide face coverings, as needed, for both students and staff.
We will give students mask breaks throughout the day.
Mandatory face coverings will help us keep kids in school. As a result of this order, we will not ask students to quarantine for being "in close contact" with a COVID-positive student or staff member as long as both individuals were wearing a mask.
Medical/developmental exemptions are still available.
Self-Screening
If you have had close contact (within 6 feet for at least 15 minutes) with a person who has tested positive/probable for COVID-19; or traveled to an area where local or state health officials are reporting large numbers of COVID-19 cases; or if you live in an area of high community transmission whose school district remains open, you may be at higher risk for contracting and/or spreading the COVID-19 virus.
Whether you are a staff member, student, or volunteer, please refer to CDC guidelines before coming to school and self-screen for symptoms.
The following symptoms could indicate a COVID-19 infection. If you are experiencing any of the following symptoms, please stay home today.
Temperature of 100.4°F or higher when taken by mouth
Sore throat
New uncontrolled cough that causes difficulty breathing
Diarrhea, vomiting, or abdominal pain
New onset of a severe headache, especially with fever
Loss of taste or smell